Atlanta, Georgia
Georgia Facts
Georgia was the fourth state to be admitted to the union. Residents of the state are called "Georgians."
Gainesville, Georgia is the Poultry Capital of the World. Did you know it's illegal to eat chicken with a fork in Gainesville? The ordinance was passed in 1961 and provides that "one must not use utensils of any kind when consuming fried chicken."
"Georgia on My Mind," written by Hoagy Carmichael and Stuart Gorrell, was designated the official state song in 1979. The tune is most often associated with singer, songwriter, musician, and composer Ray Charles, who was born in Albany, Georgia.
Famous people from Georgia include songwriter Johnny Mercer, Academy Award winning actress Joanne Woodward, and American civil rights movement leader Dr. Martin Luther King, Jr.
James Earl "Jimmy" Carter, Jr. is the only native Georgian to be chosen President of the United States. He was born in Plains on October 1, 1924. Jimmy Carter and Martin Luther King, Jr. are the only native Georgians who've been honored with the Nobel Peace Prize.
Georgia State Capitol
206 Washington Street SW, Atlanta, GA 30334
Atlanta, Georgia Postcard
Home to the 1996 Summer Olympics
Postcard Dimensions: 4.25″ x 5.6″ (portrait)
Original Poster Art in a Classic Vintage Style
Printed on ultra-heavy 110 lb, 12.5 point thick, semi-gloss paper
Atlanta is one of the American South's most popular travel destinations. Originally planned as a railway junction, the city soon developed into a major economic and cultural hub. It is home to many internationally acclaimed businesses including Coca-Cola and CNN.
Georgia State Symbols
State Bird Brown Thrasher and State Flower Cherokee Rose
Where is Georgia?
Can you find Georgia on the United States map? Hint: Georgia is bordered by Alabama, Tennessee, North and South Carolina, and Florida. Southeast Georgia borders the Atlantic Ocean for 100 miles.
Georgia State Motto
Wisdom, Justice, and Moderation
Savannah, Georgia Postcard
The Hostess City of the South
Postcard Dimensions: 4.25″ x 5.6″ (portrait)
Original Poster Art in a Classic Vintage Style
Printed on ultra-heavy 110 lb, 12.5 point thick, semi-gloss paper
Forsyth Park is a large city park in the historic district of Savannah, Georgia. The park is named for John Forsyth, who served as the 33rd Governor of Georgia from 1827 to 1829. At the center of the park lies the Confederate Memorial Statue, which commemorates those who gave their lives fighting for the Confederacy. Every St. Patricks Day the water of the opulent fountain at the north end of the park is dyed green as an homage to Savannah's deep Irish heritage. Forsyth Park has something for everyone. There are walking paths, a café, a Fragrant Garden for the blind, tennis courts, basketball courts, and open play areas for kids and soccer players.
Georgia State Quarter
Many Georgia facts are shared on the U.S. Mint's collectible state quarter.
Images: Ripe peach representing "The Peach State," an outline of Georgia's shape, "Wisdom, Justice, Moderation" state motto banner, sprigs from the official state tree, the Live Oak, year of statehood (1788), year coin was minted (1999), E Pluribus Unum (motto from the Great Seal of the United States)
Georgia State Quarter Mint Image 2.25 inch Fridge Magnet
50 State Commemorative Quarters Collector's Map – Includes Both Mints
Entered Union: January 2, 1788
Rank: 4
Georgia State Flag
Show your pride for "The Peach State." Find the best deals on Georgia state flags, signs, decals, shirts, baby bibs, hats, stickers, cell phone cases, jewelry items, and other gift ideas.
Georgia State Flag – Polyester with Reinforced Edge and Grommets – 3 x 5 feet
Tangle Free Spinning Flagpole Residential or Commercial 6-foot Flag Pole (Silver)
Georgia State Nickname
The Peach State
Take the Georgia State Quiz
Now that you've learned a few Georgia facts, test your knowledge with a fun 10-question quiz.
The Coolest People Live in Georgia
See the Entire Coolest State on Earth Collection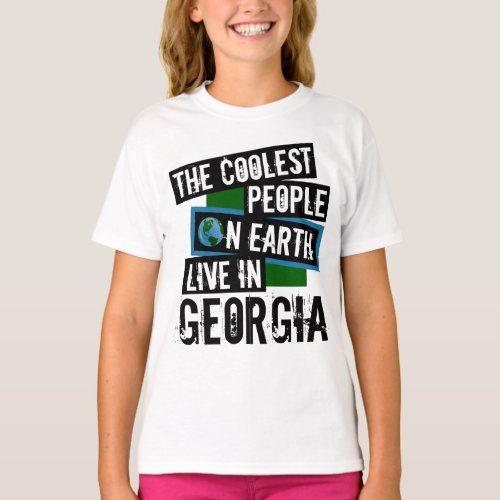 The Coolest People on Earth Live in Georgia T-Shirt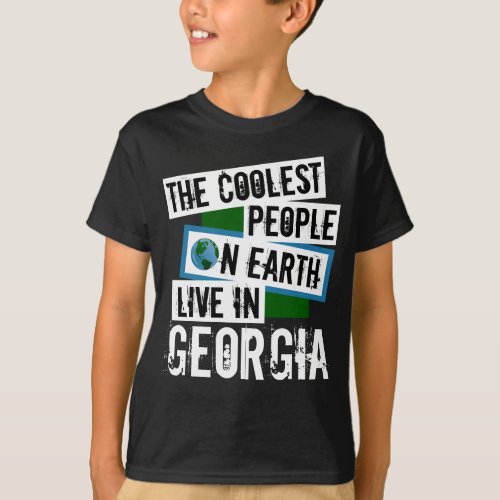 The Coolest People on Earth Live in Georgia T-Shirt

USA Facts for Kids Shopping
Disclosure: Some of the links on this website are affiliate links. This means that, at zero cost to you, we will earn an affiliate commission if you click through the link and finalize a purchase.
Courtesies
Georgia State Capitol at Atlanta photograph by Robert Wilson. This work is licensed under a Creative Commons Attribution 2.0 Generic License.
USA Facts for Kids Photo Credits
United States Quizzes