Montgomery, Alabama
Alabama Facts
Alabama was the twenty-second state to be admitted to the union. The state's name originates from Alibamu, which means "tribal town" in the Creek Indian language.
Montgomery, Alabama is the capital and the birthplace of the Confederate States of America. The Confederate flag was designed and first flown in Alabama in 1861. Alabama residents are called Alabamians or Alabamans.
Famous people from Alabama include author and educator Helen Keller, entertainer Nat "King" Cole, actress Tallulah Bankhead, track and field star Jesse Owens, actor Jim Nabors, singer and songwriter Hank Williams, World Heavyweight Champion boxer Joe Louis, To Kill a Mockingbird author Harper Lee, Friends actress Courteney Cox, Baseball Hall of Famers Hank Aaron and Willie Mays, Charlie's Angels actress Kate Jackson, and civil rights activist Rosa Parks.
Alabama State Capitol
600 Dexter Avenue, Montgomery, AL 36130
Huntsville, Alabama Postcard
The Rocket City
Postcard Dimensions: 4.25″ x 5.6″ (portrait)
Original Poster Art in a Classic Vintage Style
Printed on ultra-heavy 110 lb, 12.5 point thick, semi-gloss paper
&
Huntsville, Alabama is nicknamed "The Rocket City" because of its close association with NASA and the U.S. Army. The once quiet town was transformed into a major center for high technology during World War II. The U.S. Space & Rocket Center is open to the public and houses the world's largest collection of rockets and space artifacts. Millions of guests from all over the world have visited the birthplace of America's space program. With many simulators and hands-on exhibits, the museum showcases the past, present, and future of human spaceflight.
Alabama State Symbols
State Bird Yellowhammer and State Flower Camellia
Learn more Alabama facts with free state symbol coloring pages!
&
Where is Alabama?
Can you find Alabama on the United States map? Hint: Alabama is bordered by Mississippi, Tennessee, Georgia, and Florida. Southwest Alabama borders the Gulf of Mexico for 60 miles.
Alabama State Motto
Audemus jura nostra defendere (Latin)
We dare defend our rights
Famous Alabamians
Hank Aaron and Willie Mays
Hank Aaron and Willie Mays Tops in NL Best Baseball Reprint Card (1964)
Willie Howard Mays, Jr. was born in Westfield, Alabama on May 6, 1931. "The Say Hey Kid" was a Major League Baseball (MLB) center fielder from 1951 through 1973. He was elected to the Baseball Hall of Fame in 1979. Henry Louis "Hank" Aaron was born in Mobile, Alabama on February 5, 1934. "Hammerin' Hank" was a MLB right fielder from 1954 through 1976, and was inducted into the Baseball Hall of Fame in 1982.
Alabama State Quarter
Many Alabama facts are shared on the U.S. Mint's collectible state quarter.
Images: Native daughter Helen Keller (born on June 27, 1880, in Tuscumbia, Alabama), Miss Keller's name in English and braille, "Spirit of Courage" banner, long-leaf pine branch, magnolia blossoms, year of statehood (1819), year coin was minted (2003), E Pluribus Unum (motto from the Great Seal of the United States)
Alabama State Quarter Mint Image 2.25 inch Fridge Magnet
50 State Commemorative Quarters Collector's Map – Includes Both Mints
Entered Union: December 14, 1819
Rank: 22
Alabama State Flag
Show your pride for "The Yellowhammer State." Find the best deals on Alabama state flags, signs, decals, shirts, baby bibs, hats, stickers, cell phone cases, jewelry items, and other gift ideas.
Alabama State Flag – Nylon with Canvas Header and Grommets – 3 x 5 feet
Tangle Free Spinning Flagpole Residential or Commercial 6-foot Flag Pole (Silver)
Alabama State Nickname
The Yellowhammer State
Take the Alabama State Quiz
Now that you've learned a few Alabama facts, test your knowledge with a fun 10-question quiz.
The Coolest People Live in Alabama
Share your pride for The Yellowhammer State!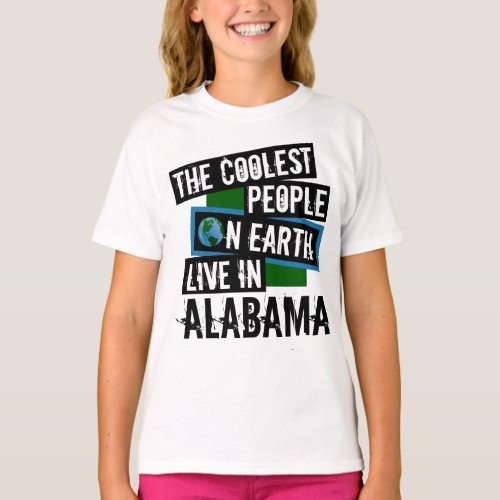 The Coolest People on Earth Live in Alabama T-Shirt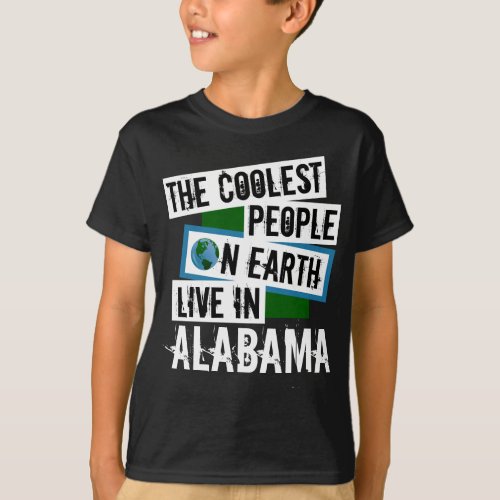 The Coolest People on Earth Live in Alabama T-Shirt

The Coolest State on Earth
See the Entire Coolest State on Earth Collection
USA Facts for Kids Shopping
Courtesies
Alabama State Capitol photograph by tpsdave
USA Facts for Kids Photo Credits
United States Quizzes