Dover, Delaware
Delaware Facts
Delaware was named after the Delaware River, which derived its name from the first governor of Virginia, Thomas West, 3rd Baron De La Warr. Residents of Delaware are known as "Delawareans."
Delaware was one of the original 13 colonies participating in the American Revolution. On December 7, 1787, Delaware became the first state to ratify the Constitution of the United States. That's how Delaware derived its nickname, "The First State."
Famous people from Delaware include actress Valerie Bertinelli, Olympic boxing champion Sugar Ray Leonard, actor Edward Ernest "Judge" Reinhold, Jr., and surgeon Henry Heimlich, who developed the life-saving Heimlich Maneuver.
Delaware State Capitol
411 Legislative Avenue, Dover, DE 19901
Delaware Coat of Arms Postcard
Liberty and Independence
Postcard Dimensions: 4.25″ x 5.6″ (portrait)
Printed on ultra-heavy 110 lb, 12.5 point thick, semi-gloss paper
Make someone's day with a simple "hello"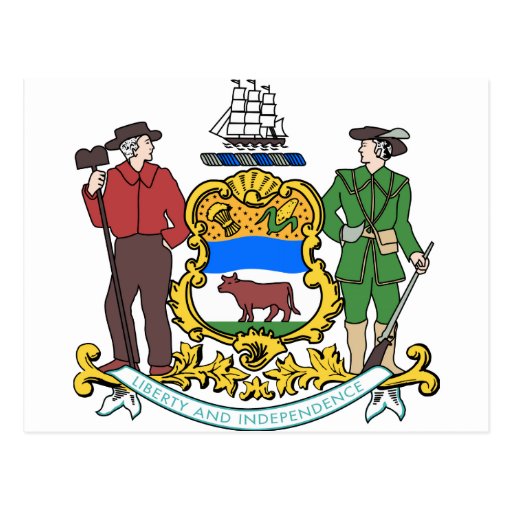 Delaware Coat of Arms Postcard

Delaware's coat of arms was first adopted in 1777. The state motto "Liberty and Independence" was approved in 1847. Each symbol has a special meaning. The ship under full sail represents the ship building industry. Water represents the Delaware River, critical to coastal commerce and transportation. The farmer, wheat sheaf, and ear of corn represent farming and agricultural vitality. The ox signifies the importance of animal husbandry to Delaware's economy. The Militiaman symbolizes the critical role of the citizen-soldier in the maintenance of American liberties.
Delaware State Symbols
State Bird Blue Hen Chicken and State Flower Peach Blossom
Learn more Delaware facts with free state symbol coloring pages!
Where is Delaware?
Can you find Delaware on the United States map? Hint: Delaware is bordered in the north by Pennsylvania and in the south and west by Maryland. New Jersey lies to the northeast of Delaware, across the Delaware River and Delaware Bay. Southern Delaware is home to 26 miles of sandy beaches along the Atlantic Ocean and Delaware Bay.
Delaware State Motto
Liberty and Independence
Delaware Map
The First State has Just Three Counties
Choose your own poster size from extra small to extra large
45 lb., 7.5 point thick poster paper (more options available)
Add a premium quality frame as an essential accessory
Delaware has just three counties, the fewest number of any state. Kent and Sussex counties have historically been agricultural, with soybeans and corn as the two most important crops. Farmers also grow barley, wheat, potatoes, and peas. Apples are the largest fruit crop in Delaware. New Castle County, located in the north, is more industrialized. Most of the state's revenue is now generated through service industries, including finance, insurance, and real estate.
Delaware State Quarter
Many Delaware facts are shared on the U.S. Mint's collectible state quarter.
Images: Historic horseback ride of Caesar Rodney, a delegate to the Continental Congress at Independence Hall in Philadelphia, Delaware nickname "The First State," year of statehood (1787), year coin was minted (1999), E Pluribus Unum (motto from the Great Seal of the United States)
Delaware State Quarter Mint Image 2.25 inch Fridge Magnet
50 State Commemorative Quarters Collector's Map – Includes Both Mints
Entered Union: December 7, 1787
Rank: 1
Delaware State Flag
Show your pride for "The First State." Find the best deals on Delaware state flags, signs, decals, shirts, baby bibs, hats, stickers, cell phone cases, jewelry items, and other gift ideas.
Delaware State Flag – Nylon with Canvas Header and Grommets – 3 x 5 feet
Tangle Free Spinning Flagpole Residential or Commercial 6-foot Flag Pole (Silver)
Delaware State Nickname
The First State
Take the Delaware State Quiz
Now that you've learned a few Delaware facts, test your knowledge with a fun 10-question quiz.
The Coolest People Live in Delaware
See the Entire Coolest State on Earth Collection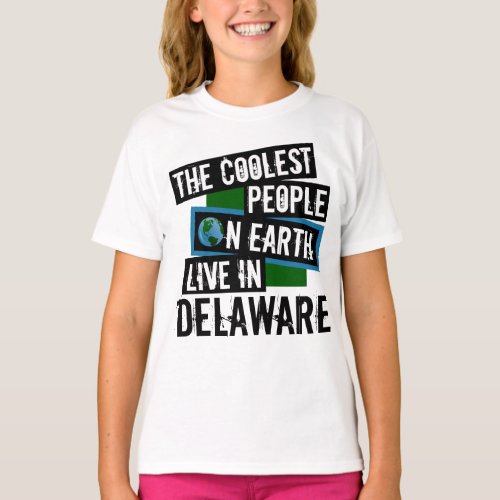 The Coolest People on Earth Live in Delaware T-Shirt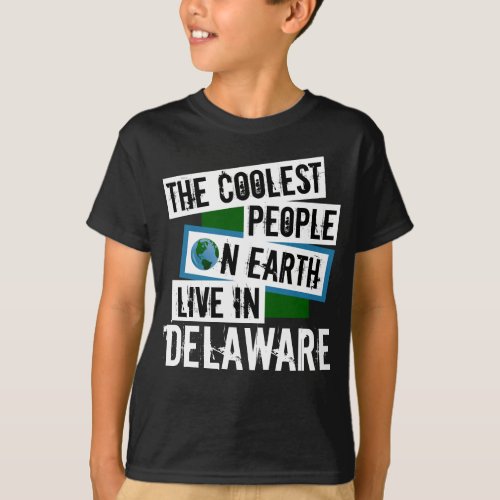 The Coolest People on Earth Live in Delaware T-Shirt

USA Facts for Kids Shopping
Disclosure: Some of the links on this website are affiliate links. This means that, at zero cost to you, we will earn an affiliate commission if you click through the link and finalize a purchase.
Courtesies
Delaware State Capitol at Dover by Phil Roeder. This work is licensed under a Creative Commons Attribution 2.0 Generic License.
USA Facts for Kids Photo Credits
United States Quizzes