Hartford, Connecticut
Connecticut Facts
Connecticut was the fifth state to be admitted to the union. A person who is a native of Connecticut may be called a "Connecticuter." However, this nickname has not been officially adopted by the state for its residents.
Connecticut is part of the six-state New England region in the northeastern corner of the United States. This area also includes Maine, Massachusetts, New Hampshire, Rhode Island, and Vermont.
Named nearly 400 years ago in 1637, Hartford is one of the oldest cities in the United States. Since Hartford is home to many insurance company headquarters, the city is commonly known as the "Insurance Capital of the World."
Famous people from Connecticut include author Mark Twain, pediatrician Benjamin Spock, Olympic Gold Medalist figure skater Dorothy Hamill, professional boxer Mike Tyson, Academy Award winning actresses Glenn Close, Bette Davis, Katharine Hepburn, and Linda Hunt, The Ghost & Mrs. Muir star Hope Lange, Academy Award winning actor Ernest Borgnine, showman P.T. Barnum, composer Charles Ives, author Harriet Beecher Stowe, author and political commentator Ann Coulter, and American Revolutionary General Benedict Arnold.
Connecticut State Capitol
210 Capitol Avenue, Hartford, CT 06106
Charter Oak Poster
Travel Connecticut
Choose your own poster size from extra small to extra large
Beautiful Travel Image in a Classic Vintage Style
45 lb., 7.5 point thick poster paper (more options available)
&
The Charter Oak is a large white oak tree that once grew in Hartford. According to tradition, Captain Joseph Wadsworth hid Connecticut's Royal Charter of 1662 in a cavity of the tree. He wanted to prevent its confiscation by British representatives for King James II. The tree fell during a severe storm in 1856. Many items were crafted from the salvaged wood, including intricately carved furniture pieces now on display at the Hartford Capitol Building.
Connecticut State Symbols
State Bird American Robin and State Flower Mountain Laurel
Learn more Connecticut facts with free state symbol coloring pages!
Where is Connecticut?
Can you find Connecticut on the United States map? Hint: Connecticut is bordered by New York, Massachusetts, and Rhode Island. Coastal Connecticut encompasses the entirety of the state's southern border along Long Island Sound, a tidal estuary of the Atlantic Ocean.
Connecticut State Motto
Qui transtulit sustinet (Latin)
He who transplanted still sustains
Hartford, Connecticut Postcard
Soldiers and Sailors Memorial Arch
Postcard Dimensions: 4.25″ x 5.6″ (portrait)
Original Poster Art in a Classic Vintage Style
Printed on ultra-heavy 110 lb, 12.5 point thick, semi-gloss paper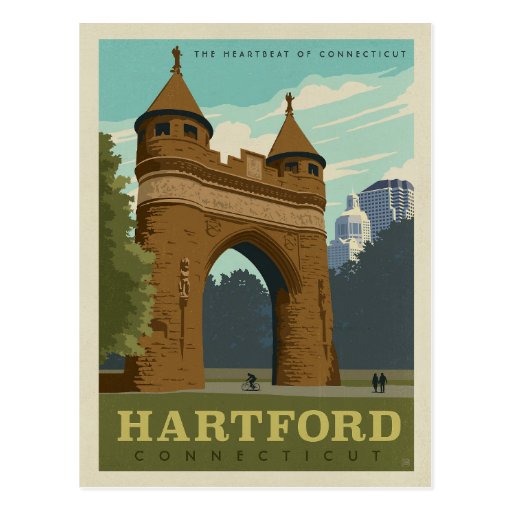 Hartford, Connecticut Postcard

The Soldiers and Sailors Memorial Arch was designed by Hartford architect George Keller. It was dedicated in 1886 on September 17–the anniversary of the Battle of Antietam. The Gothic brownstone monument honors the 4,000 Hartford citizens who served in the Civil War, and the 400 who died for the Union. September 17, 1862 marked the bloodiest day of battle in American history, with a combined tally of 22,717 dead, wounded, or missing.
Connecticut State Quarter
Many Connecticut facts are shared on the U.S. Mint's collectible state quarter.
Images: The Charter Oak tree and inscription, year of statehood (1788), year coin was minted (1999), E Pluribus Unum (motto from the Great Seal of the United States)
Connecticut State Quarter Mint Image 2.25 inch Fridge Magnet
50 State Commemorative Quarters Collector's Map – Includes Both Mints
Entered Union: January 9, 1788
Rank: 5
Connecticut State Flag
Show your pride for "The Constitution State." Find the best deals on Connecticut state flags, signs, decals, shirts, baby bibs, hats, stickers, cell phone cases, jewelry items, and other gift ideas.
Connecticut State Flag – Nylon with Canvas Header and Grommets – 3 x 5 feet
Tangle Free Spinning Flagpole Residential or Commercial 6-foot Flag Pole (Silver)
Connecticut State Nickname
The Constitution State
Take the Connecticut State Quiz
Now that you've learned a few Connecticut facts, test your knowledge with a fun 10-question quiz.
The Coolest People Live in Connecticut
See the Entire Coolest State on Earth Collection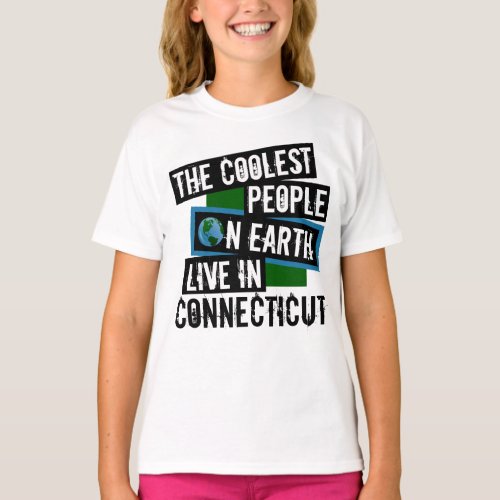 The Coolest People on Earth Live in Connecticut T-Shirt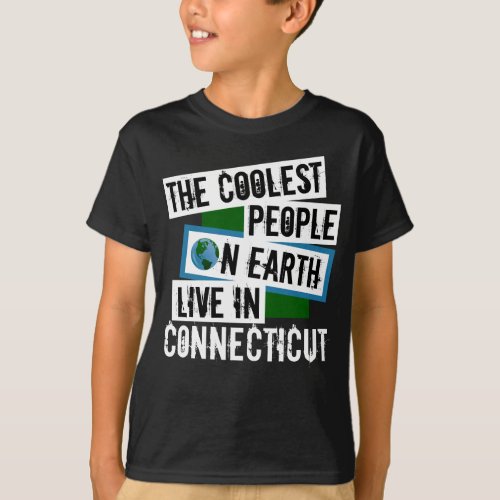 The Coolest People on Earth Live in Connecticut T-Shirt

USA Facts for Kids Shopping
Disclosure: Some of the links on this website are affiliate links. This means that, at zero cost to you, we will earn an affiliate commission if you click through the link and finalize a purchase.
Courtesies
Connecticut State Capitol photograph by tpsdave
USA Facts for Kids Photo Credits
United States Quizzes