Phoenix, Arizona
Arizona Facts
Arizona was the forty-eighth state admitted to the union. Arizona residents are referred to as Arizonans or Arizonians.
Arizona's most abundant mineral is copper. That's why there's a copper-colored star on the Arizona flag. The copper used on the roof of the Arizona Capitol building is enough to make 4,800,000 pennies!
Famous people from Arizona include award-winning recording artist Linda Ronstadt, I Dream of Jeannie actress Barbara Eden, musician Alice Cooper, 7th Heaven actress Catherine Hicks, labor leader Cesar Chavez, Wonder Woman actress Lynda Carter, and architect Frank Lloyd Wright.
Comedian and actress Sandra Bernhard graduated from Saguaro High School in Scottsdale, Arizona. The first female U.S. Supreme Court Justice, Sandra Day O'Connor grew up on a cattle ranch near Duncan, Arizona. Jazz musician and composer Charles Mingus was born at the U.S. Army Base in Nogales, Arizona.
Arizona State Capitol
1700 W. Washington Street, Phoenix, AZ 85007
Imagining Tombstone: The Town Too Tough to Die
by Kara L. McCormack
Imagining Tombstone: The Town Too Tough to Die by Kara L. McCormack
Tombstone is best known as the site of the Gunfight at the O.K. Corral, which took place on March 15, 1881. Thanks to preservation efforts, the spirit of the old west is alive and well more than a century later. Tombstone's tourist attractions include three blocks of shaded boardwalks lined with gift shops, saloons, and restaurants. Actors in period costumes are seen casually strolling along Allen Street, and there are daily reenactments of the infamous gunfight. Visitors are also drawn to historical sites like the Bird Cage Theatre, Boot Hill Graveyard, and the world's largest rosebush–planted in Tombstone in 1885.
Arizona State Symbols
State Bird Cactus Wren and State Flower Saguaro Cactus Blossom
Learn more Arizona facts with free state symbol coloring pages!
Where is Arizona?
Can you find Arizona on the United States map? Hint: Arizona is a landlocked state bordered by California, Nevada, Utah, and New Mexico. To the south, Arizona borders the Mexican state of Sonora. Arizona is one of the "Four Corners" states, which includes Utah, Colorado, and New Mexico. Arizona touches Colorado, but these two states do not share a border.
Arizona State Motto
Ditat Deus (Latin)
God Enriches
Lazy B: Growing up on a Cattle Ranch in the American Southwest
by Sandra Day O'Connor and H. Alan Day
Lazy B: Growing up on a Cattle Ranch in the American Southwest by Sandra Day O'Connor and H. Alan Day
Sandra Day O'Connor served as Assistant Attorney General of Arizona from 1965 to 1969, and was later appointed to fill a vacancy in the Arizona State Senate. After being re-elected to the State Senate in 1973, she became its first female Majority Leader. In 1975 she was elected to the Maricopa County Superior Court, and was subsequently elevated to the Arizona State Court of Appeals. She served in that capacity until 1981 when she was appointed as Associate Justice of the United States Supreme Court by President Ronald Reagan. The President thus fulfilled his campaign promise to appoint the first woman to the Court.
Arizona State Quarter
Many Arizona facts are shared on the U.S. Mint's collectible state quarter.
Images: View of the Grand Canyon backed by a shining sun, a stately Saguaro cactus, "Grand Canyon State" Arizona nickname banner, year of statehood (1912), year coin was minted (2008), E Pluribus Unum (motto from the Great Seal of the United States)
Arizona State Quarter Mint Image 2.25 inch Fridge Magnet
50 State Commemorative Quarters Collector's Map – Includes Both Mints
Entered Union: February 14, 1912
Rank: 48
Arizona State Flag
Show your pride for "The Grand Canyon State." Find the best deals on Arizona state flags, signs, decals, shirts, baby bibs, hats, stickers, cell phone cases, jewelry items, and other gift ideas.
Arizona State Flag – Nylon with Canvas Header and Grommets – 3 x 5 feet
Tangle Free Spinning Flagpole Residential or Commercial 6-foot Flag Pole (Silver)
Arizona State Nickname
The Grand Canyon State
Take the Arizona State Quiz
Now that you've learned a few Arizona facts, test your knowledge with a fun 10-question quiz.
The Coolest People Live in Arizona
See the Entire Coolest State on Earth Collection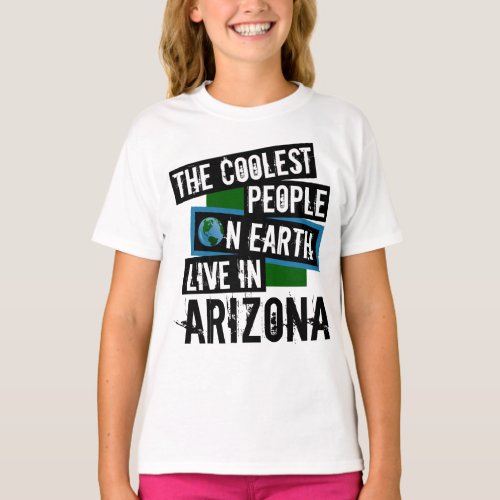 The Coolest People on Earth Live in Arizona T-Shirt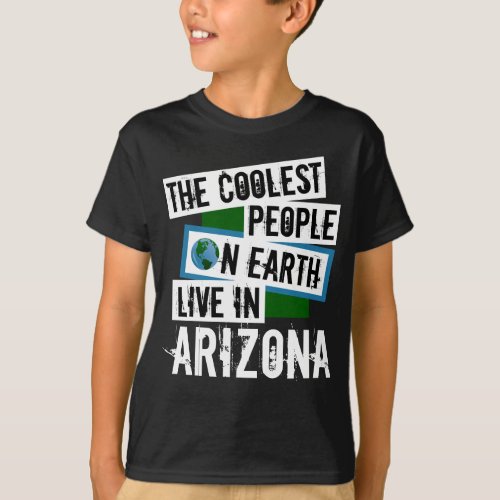 The Coolest People on Earth Live in Arizona T-Shirt

USA Facts for Kids Shopping
Disclosure: Some of the links on this website are affiliate links. This means that, at zero cost to you, we will earn an affiliate commission if you click through the link and finalize a purchase.
Courtesies
Arizona State Capitol at Phoenix by Mark Goebel. This work is licensed under a Creative Commons Attribution 2.0 Generic License.
USA Facts for Kids Photo Credits
Tombstone Arizona Information and Tourist Guide
United States Quizzes