Juneau, Alaska
Alaska Facts
Alaska was the forty-ninth state admitted to the union. Alaska is the largest state—it's more than twice the size of Texas.
The land mass of Alaska makes up one-fifth of the continental United States, and was purchased from Russia for $7,200,000. That's about two cents per acre!
The Alaska Native population includes Eskimos, Indians, and Aleuts. The state's name originated from an Aleut word meaning "great land" or "that which the sea breaks against." Alaska residents are known as Alaskans.
Famous people from Alaska include singer and songwriter Jewel Kilcher, Alaska Governor and 2008 Republican vice presidential nominee Sarah Palin, champion snowmobile racer Todd Palin, major league baseball outfielder Randy Kutcher, actress Michelle Johnson, classical music composer John Luther Adams, and Benny Benson, who designed the Alaskan flag in 1927 when he was a 13-year-old student.
Alaska State Capitol
120 4th Street, Juneau, AK 99801
Valdez, Alaska Poster
Moose Drinking at Lake in a Vintage Travel Poster Style
Choose your own poster size from extra small to extra large
45 lb., 7.5 point thick poster paper (more options available)
Add a premium quality frame as an essential accessory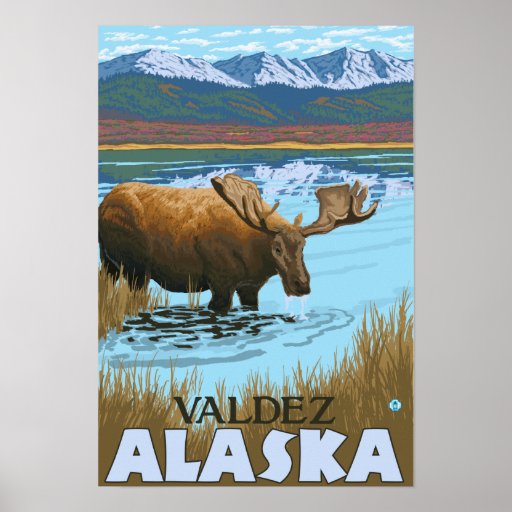 Moose Drinking at Lake – Valdez, Alaska Poster

&
The Trans-Alaska Pipeline conveys crude oil from Prudhoe Bay in northern Alaska to a terminal in Valdez, the nearest ice-free port. The pipeline is one of the largest in the world, covering a distance of 800 miles. The oil is then loaded onto tanker ships for transport. Valdez is also a premier fishing destination. Its waters are stocked with salmon, rockfish, lingcod, and some of the best halibut in the world. Considered one of the prettiest places in Alaska, Valdez is home to many natural wonders that attract tourists and winter sports enthusiasts year round.
Alaska State Symbols
State Bird Willow Ptarmigan and State Flower Forget-Me-Not
Learn more Alaska facts with free state symbol coloring pages!
Where is Alaska?
You won't find Alaska on this United States map. That's because Alaska is not part of "The Lower 48," a nickname for the adjoining U.S. states. Alaska is located on the North American continent and is bordered by the Canadian provinces of Yukon Territory and British Columbia to the east. Alaska also shares a maritime border with Russia to the west. Measuring an impressive 6,640 miles, Alaska's coastline is longer than all the other U.S. states combined! Alaska borders several major water bodies, including the Gulf of Alaska and the Pacific Ocean to the south and southwest, the Bering Sea, Bering Strait, and Chukchi Sea to the west, and the Arctic Ocean to the north.
Alaska State Motto
North to the Future
Iditarod, Alaska Wall Art
Dog Sledding Scene in a Vintage Travel Poster Style
Wood Photo Print available in 10 sizes
Printed on birch wood with sustainable ink
Two anchors and screws included for hanging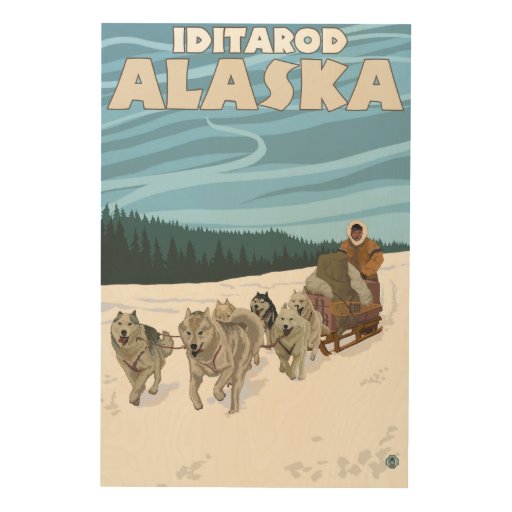 Dog Sledding Scene – Iditarod, Alaska Wall Art

The Iditarod Trail Sled Dog Race takes place in early March, covering territory from Anchorage to Nome. The race is the most popular sporting event in Alaska, though it has drawn competitors from 14 countries. Top mushers and their teams of sled dogs enjoy celebrity status in Alaska. The race is named for the Iditarod Trail, which was designated as one of the first four National Historic Trails in 1978.
Alaska State Quarter
Many Alaska facts are shared on the U.S. Mint's collectible state quarter.
Images: A large grizzly bear emerging from the water with a salmon (the state fish) in its jaw, the north star, "The Great Land" inscription, year of statehood (1959), year coin was minted (2008), E Pluribus Unum (motto from the Great Seal of the United States)
Alaska State Quarter Mint Image 2.25 inch Fridge Magnet
50 State Commemorative Quarters Collector's Map – Includes Both Mints
Entered Union: January 3, 1959
Rank: 49
Alaska State Flag
Show your pride for "The Last Frontier." Find the best deals on Alaska state flags, signs, decals, shirts, baby bibs, hats, stickers, cell phone cases, jewelry items, and other gift ideas.
Alaska State Flag – Nylon with Canvas Header and Grommets – 3 x 5 feet
Tangle Free Spinning Flagpole Residential or Commercial 6-foot Flag Pole (Silver)
Alaska State Nickname
The Last Frontier
Take the Alaska State Quiz
Now that you've learned a few Alaska facts, test your knowledge with a fun 10-question quiz.
The Coolest People Live in Alaska
See the Entire Coolest State on Earth Collection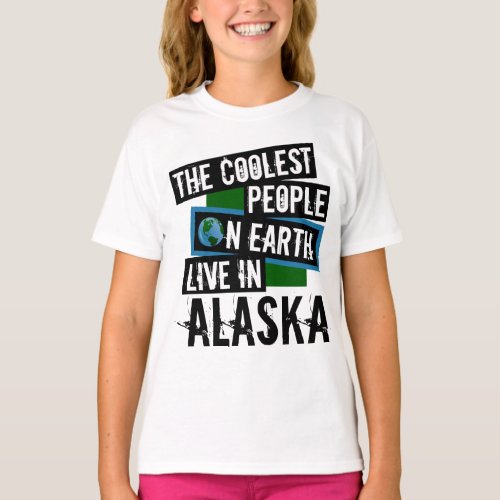 The Coolest People on Earth Live in Alaska T-Shirt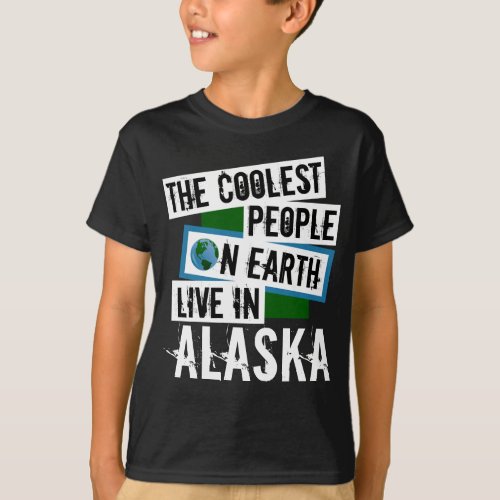 The Coolest People on Earth Live in Alaska T-Shirt

USA Facts for Kids Shopping
Disclosure: Some of the links on this website are affiliate links. This means that, at zero cost to you, we will earn an affiliate commission if you click through the link and finalize a purchase.
Courtesies
Alaska State Capitol photograph by tpsdave
USA Facts for Kids Photo Credits
United States Quizzes